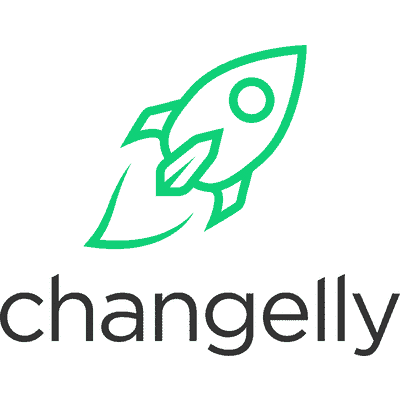 Key Takeaways:
The exchange offers a simple interface that makes it easy for everyone to trade.
If you value your privacy, you will be happy to hear that Changelly does not require you to share any official documents to verify your account.
Supports 408 coins and tokens but not all of them are tradable.
If you happen to have a large following, you can use the earning program to earn interest on transactions made by people you brought on the exchange.
It's a better choice to come into Changelly while already owning some crypto assets. If you are going to buy crypto with fiat currency, you are going to pay high fees and the payment options are limited.
Changelly Features
408 Cryptocurrencies to buy and sell
The platform accommodates 408 unique cryptos to choose from. If you take a look through their cryptos, you will realize they have a wide selection of altcoins that you probably have never heard about. Of course, major and established coins are always a choice you can go with in Changelly.
One more plus that comes with the platform is that you can monitor the prices and see how the market moves in real time. However, you are also going to encounter a setback. Some of the coins can't be viewed and not all of them are available for buying or exchanging. It would be better if those coins could be taken off their list instead of laying there.
To conclude, while all the major and established cryptos are present, there is still some room for exploration.
Anonymity
Changelly will not demand any government issued documents from your part. There is no verification process like usually happens with the rest of the exchanges. However, there is a 2-factor authentication process. But don't let that scary you. The only thing you really need to use Changelly is to sign up with an email.
Trading is tricky in some cases
Changelly will work better for a user that already owns some crypto assets and trades them for other cryptos. Fees are relatively lower in this case rather than buying cryptos with fiat currency. In addition, if you want to buy cryptos with fiat currency, you will have to do it via a third party, which Changelly will prompt you to. And on top of that, the payment options are limited to debit and credit cards.
Affiliate earning program
Changelly offers influencers an opportunity to earn money and crypto by sharing their affiliate links. They call this program an Earning Program and one is able to earn up to 50% revenue. The program is open for anyone and not just people with a large following or audience.
The process works as usual. A user has to get an affiliate link and share it with their audience. To begin with, the new member who comes in the website should have clicked on that exact link. But that is not enough. To be able to earn revenue, that person has to take some action and make some transactions in crypto. Depositing and withdrawing their cryptos will not earn you any money.
Trading fees
When it comes to fees, Changelly will not charge any withdrawal fees but it will charge you for any other type of transaction. Buying cryptos by using fiat currency will enable you to pay higher fees while trading crypto to crypto charges lower fees.
In general, the fee structure in Changelly is quite simple and the fees are divided into two categories: Floating fee and Fixed fee. The fixed fee is a 0.25% fee, which is relatively high, especially when compared to other platforms.
The floating fee, is not a standard fee. It is a fee that changes accordingly to the pair you are trading and the cryptos' value at the time. That means that you won't exactly know what you are paying for that transaction, or at least, you are not going to be totally certain.
On the bright side, you can pick which kind of fee you are going to be paying. When choosing floating fee, you are going to be given a preview of the fee you are will pay. So, maybe the floating fee will give you an opportunity to pay lower fees for some pairs, under the 0.25% threshold. If you sign up for Changelly Pro, the fee structure changes completely and follows new rules. You essentially pay a maker or a taker fee, similar to other crypto exchanges.
Security
Changelly is a secure exchange which supports 2-Factor authentication and keeps your anonymity intact. As we have already mentioned in the introduction, Changelly is a non-custodial exchange. That essentially means that you will need to have your own wallet address to be able to trade in Changelly.
Changelly is a service you can use to trade and it does not store any of your assets.
Customer support
Changelly's customer support can be contacted through a couple of emails and a live chat feature. There is not a phone option.
Keep in mind that the live feature can only be used when you are logged into your account. Therefore, it can only be used for existing accounts. If for any reason you want to contact Changelly before you sign up, you will have to use one of their emails.
In addition, the live chat feature is not going to solve your problem in real time. Like with many other exchanges, it will guide you through a variety of frequently asked questions and eventually allow you to write an email. From there, you will have to wait for an answer in your inbox.
FAQ